3 years ago
How Joey Carbery went from an off day in Castres to can't miss goalkicker
'You had a bit of an off day with the boot against Castres late last year but after that you went on this tear and reeled off like 20+ kicks in a row. How many did you get to?'
"Yeah, it's still at 25," said Carbery. "I don't think I've missed a kick since that Castres game."
Advertisement
Carbery was lights out for Munster in the second half of last season and he knows exactly how many successful kicks he's landed since he converted just four from six against Castres last December.
He remembers a lot of the kicks but more so the one's he's missed and insists that at least one of those kicks should have gone over the black spot.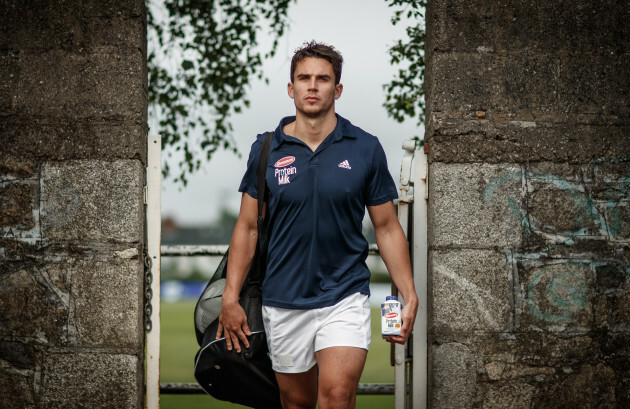 There were many question marks over Carbery heading into this season. Could he play fly-half long term? Would he be able to walk straight into the Munster team and guide the team around the pitch? Could he be a reliable goal kicker?
Advertisement
In many respects he answered yes to all three questions, he just put an exclamation point on the goal kicking aspect!
For Carbery, there were no drastic changes or costly misses forcing him to change his technique, he just placed complete faith in his process and it certainly has not let him down thus far.
"Not really. I missed one kick that I definitely should have got in that Castres game but other than that, no I haven't changed too much," said Carbery as part of Avonmore Protein Milk's 'You've Got This' campaign as they launch their new blueberry flavour.

"Just trust my technique and my method. It has gone pretty well so far. I've worked a good bit with Richie [Murphy - Ireland kicking coach] over the last two or three years on everything, on all kicking aspects really. He's a great help and a great guy to have there but nothing has drastically changed from this time last year until now.

"Kicking in a game is also a lot different to kicking in practice as well. The more you kick in a game, the more comfortable you feel. It does get a bit, not easier, but you do feel a bit more comfortable."
Carbery's season was ultimately scuppered by a recurring hamstring issue but he now seems to have put those issues behind him for the moment.
Advertisement
"It's not giving me any issues now but I just have to keep on top of it so it doesn't happen again. During the break I would've been doing my rehab most days just to make sure it's tipping over.

"Injury is part and parcel of what we do. You can do your work in the gym and your prehab to try and make sure you minimise the injuries you can get.

That's my focus now is to get as strong and as fit as I can. Hopefully I'll be ready."