1 year ago
QUIZ: Can you name these goalkeepers from the last World Cup?
Brought to you by STAYPure.
How well do you know your keepers?
Goalkeepers are the last line of defence, the ones who can't hide when things go wrong. Being a goalkeeper means that you're nearly always going to be a hero or a villain.
Perhaps the best case scenario for many keepers is if no one notices them during a game. With the World Cup in full flow, we thought we'd test that theory and see just how well you remember your goalkeepers from the 2014 World Cup.
Do you remember this guy, for instance?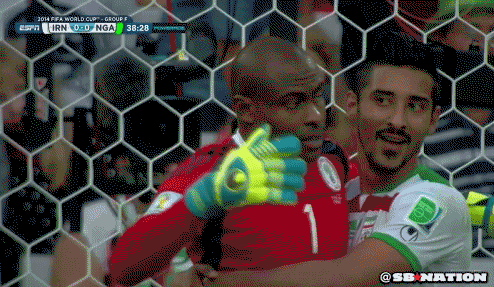 It may only be four years since Brazil 2014 but only real football fans are likely to get 12/12 in this quiz.
Speaking of shot-stoppers, AquaNu's StayPure is a water purification device that will stop any bacteria, chemicals or stale tastes in the water from getting to you. So it's perfect if you want to make sure the water in your reusable bottle is clean, safe and better-tasting.
We have an exclusive offer for SportsJOE readers so you can now get one pod for €9.95 plus shipping (Reduced from €15.95). To avail of this offer or to find more information, check out the website. 
Please click here if you cannot see this quiz. 
Brought to you by STAYPure.