5 months ago
Analysis: Conor Murray's genius and Chris Farrell's playmaking
Munster welcomed back both Conor Murray and Chris Farrell for their 44-14 demolition of Edinburgh on Friday.
The Ireland internationals made their first starts of the season after overcoming respective neck and knee injuries and it didn't take them long to get going again as they both played pivotal parts in dismantling a weakened Edinburgh side.
Murray wasted no time in setting the pace for Munster and his box kicks were a welcomed addition as he was able to find touch a number of times for his side early in the first-half.
However, while he is renowned for his box kicks from the base of the ruck, he's also become quite adept in recent years at employing cross kicks from just about anywhere on the pitch.
The scrum-half came very close to connecting with Taulupe Faletau on last summer's Lions tour of New Zealand and he very nearly found captain Peter O'Mahony on Friday night.
Above we can see Munster have possession just behind the halfway line and Murray comes in and scoops the ball up before kicking the ball just inside the Edinburgh 22.
It's a great chase from O'Mahony, and while the kick itself may be just out of his reach for a contest, the placement still puts Edinburgh under huge pressure and into a situation where they must secure possession and stop one of the best pilferers in world rugby from getting over the top of the ball.
Murray's rugby IQ is among the very best in world rugby and he has an uncanny knack for exploiting teams around the ruck.
He's enjoyed tremendous success in this area with Ireland over the last few years, particularly against New Zealand where he's scored twice from catching defenders out near the ruck, and he enjoyed similar results against Edinburgh.
Here we can see Munster begin to press into the Edinburgh 22 and Murray delays his pass before popping a delicate short ball to second-row Billy Holland who burrows his way towards the line.
Munster recycle possession and two phases later and Farrell has crashed over for a score but it's deft passes like Murray's here that really unsettles the defence.
The Ireland half-back told SportsJOE earlier this year that a lot of his success around the ruck is instinctive, but that he places a great deal of trust in those around him to identify gaps in opposing defences.
"It's reactionary," said Murray back in January.
"You go on your instincts. You look for movement. First and foremost, the breakdown will win or lose you the game more often than not.
"If that's going well, and you get quick ball, and defenders are struggling to get in position on time, if you get the ball in your hands you can probably influence them or move them around and play off that.
"Ben Youngs does it really well. He likes to play around the ruck an awful lot and you're just looking for people not paying attention, or maybe spaced a little bit too wide, or if you want to drag them out like the try last year where you get Zeebs on the inside, that's my instincts.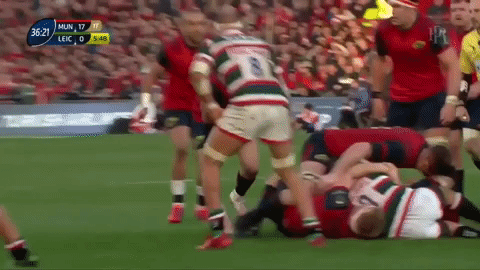 "But then it's Zeebs, or [Andrew] Conway or [Keith] Earlsy, or whoever I'm used to working with, usually wingers looking for work off their wing, they're your eyes really.
"You just have to focus on a defender and you know they'e going to be there.
"There's not one thing I'm looking for but movement or people not set early enough is what I react to."
One of the great things about Murray's play is that his eyes are always up and scanning for possible gaps and weaknesses.
For as crisp as his passing is, and for as accurate as his box kicks are, it's his vision that often creates the most opportunities for his teammates.
Above the Munster maul is edging ever closer towards the Edinburgh line but notice how Murray has a quick glance left and right before ripping the ball out, drawing the defender in and popping the ball out to Keith Earls for the easy score.
He has played very little rugby over the second-half of this year but the old adage of form is temporary, class is permanent certainly is applicable in his case.
The same can be said for Chris Farrell who was awarded man of the match in what was his first game back since the Six Nations.
At 6 ft 5 and 110 kilograms, Farrell's size is always going to a strong point to his play but it was his playmaking ability that really caught the eye against Edinburgh.
Here we can see a really well worked move from Munster but Farrell creates the overlap by drawing in two defenders and feeding the ball out the back to J.J. Hanrahan who picks out Mike Haley who then puts Andrew Conway away in the corner.
Again, Johann van Graan and his coaching staff must given a huge amount of credit here for the play design, but the execution is superb from Farrell and the try is simply not scored if his pass is not on target.
Later in the half we can again see Farrell deliver a nice pass to Haley after Munster do an excellent job at realigning on the short side.
Munster number up well, Juan Pablo Socino rushes out of the line and is swatted away by Farrell who accelerates through the gap and draws the full-back in before giving the ball to Haley who then does a brilliant job at finding Keith Earls for a great Munster score.
The two-time European champions were at their scintillating best on Friday but the return of Murray and Farrell were welcomed additions with the Champions Cup once again on the horizon.
Munster ultimately disappointed in last year's semi-final but getting two of their best backs back and clicking again is a very positive sign ahead of what could still yet be a very positive season.