1 year ago
Rugby is not the 'people's sport' but it definitely gets the people talking
A trend starts in America, then travels to Europe and then somewhere along the line it hits Ireland like a storm that has descended into a gust after making its way across the Atlantic.
Here's an example. NFL quarter-back Cam Newton first popularised the 'dab' celebration after scoring touchdowns for the Carolina Panthers in October 2015, and a shortwhile later, French midfielder Paul Pogba, along with a host of others, quickly brought the wildly popular move into the world of football.
It would be a further six months before Tyrone's Ronan O'Neill introduced the trend into the GAA and it was naturally met with a degree of skepticism.
24.4.16 Tyrone v Kerry, Ronan O'Neill goal and dab #DOCSPORT pic.twitter.com/Uf0hqCIIdj

— DOCSPORT (@DOCSPORT3) April 24, 2016
Apparently, Ronan O'Neill's goal celebration is called a Dab. What's next? Twerking.

— Kieran Cunningham (@KCsixtyseven) April 24, 2016
If Irish sport is six months behind scoring celebrations, you can argue that it's about five to 10 years behind international media trends.
Over the last two years, just about every major Irish sports publication has launched a podcast to varying degrees of success. However, ESPN and The Guardian first started launching podcasts as early as 2006.
ESPN have also helped propel the careers of Skip Bayless, Jim Rome and a slew of other shock jocks who have yielded lucrative jobs by debating provocative sports topics.
'Is LeBron James a choke artist?' 'Is Lavar Ball the worst sports parent ever?' 'Steelers quarter-back Ben Roethlisberger needs to retire' etc.
ESPN have a lot of hours to fill on a daily basis across a number of their channels and platforms.
The network's programmes that are debate-centric have increasingly helped fill slots in their schedule, because, like any successful company, they have responded to market demand.
Sky Sports have also tried to enter this space recently by introducing 'The Debate', a brand new nightly debate show where a host of former football players and ex-managers discuss and debate the latest Premier League stories.
Irish sport has no such equivalent, not yet at least, but give it about five to 10 years or so and we'll get there eventually. RTE's Against The Head might even help accelerate the process.
On Monday evening, the RTE Rugby Twitter account shot up to the top of the national sports cycle with just 19 words, 105 characters and one tweet.
Is rugby now the people's game? The #AgainstTheHead panel debate the issue #rterugby Full discussion here https://t.co/7R57llbHLm pic.twitter.com/OFLeEzIdp3

— RTÉ Rugby (@RTErugby) March 5, 2018
The national broadcaster posed the question: 'Is rugby now the people's game?'
The question was widely ridiculed on social media, provoked comment pieces and had host Daire O'Brien asking had every Irish citizen now entered the middle class social bracket, a question, of course, asked during the midst of a nationwide homelessness crisis.
Rugby is not the people's sport. It is the third most played team sport behind both Gaelic codes and soccer, while the most viewed rugby match on RTE last year - Ireland's Six Nations clash with France at the Aviva Stadium - trailed the Republic of Ireland's World Cup qualifier with Wales, the All-Ireland hurling final and the All-Ireland football final in terms of viewing figures.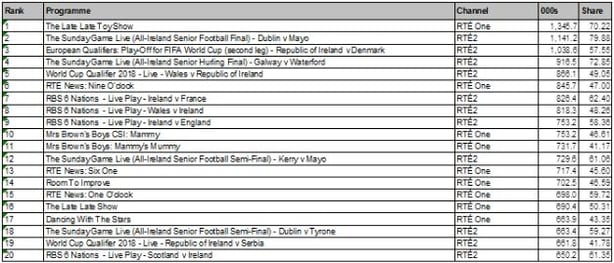 Meanwhile on TG4, GAA Beo (intercounty football and hurling) ranks ahead of Rugby Beo (PRO14).
Rugby trails both soccer and GAA when it comes to viewership and participation, however, it's somewhat beside the point here as it's important to note that the RTE Against The Head clip that caused so much hysteria on Monday currently has over 44,000 views on Twitter.
44,000 plus views may not sound like groundbreaking figures but it is a notable mark in comparison to the recent Against The Head videos on the RTE Rugby Twitter account.
Their discussion on Ireland's defensive frailties? 2,000 plus views.
Ireland's tactics? 2,500 plus views.
The modern history of Ireland and Wales? 2,000 views.
It may have been ridiculed, mocked, laughed at and derided, but it received 20 times more exposure than any of their other recent rugby videos.
It's a telling sign of audience habits, but it's also an indication that the provocative and the bizarre are increasingly rising to the fore.
We do our utmost at @ExaminerSport, we really do. And the most read story on our websites Monday (with more than double the next best-read) is some French Ice dancer's wardrobe malfunction. I'm off back to bed.

— Tony Leen (@tonyleen) February 20, 2018
The replies to the Against The Head video are also a telling sign that Ireland is as tribal as ever when it comes to sport. While some Irish sports fans would watch anything from the Premier League to two flies going at it, others become incensed when there's a mere suggestion that their sport has been brushed aside by a different code.
The levels of delusion here really are staggering. Rugby is a minority sport, and does not have the same reach or relevance as GAA or Soccer, no matter how much rugby's promoters will try to state otherwise.

— corcaighbhoy (@corcaighbhoy) March 5, 2018
Great footage here of Irish rugby fans celebrating the Six Nations Win over Wales at Kiely's roundabout#ThePeoplesGame#JoesArmy#GiveItALashJoe pic.twitter.com/k0hpnOYxz1

— YBIG (@YouBoysInGreen) March 6, 2018
A 'debate' you say? With a one-sided panel? A one-sided rugby panel? #debate pic.twitter.com/ZnTYkaKax6

— Paudie O Brien (@Paudie09) March 6, 2018
No matter how much the d4 media try to push it rugby will never be the game of the people in Ireland

— Colm Garvey (@colm1798) March 6, 2018
How's it the people's game when it's only played at the top level by people who went to elitist schools. Will never get near GAA/Soccer as the people's game because you can't play at the top unless your parents had a shed load of money and you attended a private school.

— Stephen Harding (@stevie_harding) March 6, 2018
Sooner or later this debate always rounds back to D4, media agendas and private schooling.
The high profile examples of Sean O'Brien and Tadhg Furlong, who both hail from non-traditional rugby backgrounds, may inspire more kids in Leinster and beyond to play rugby than there might have been before their respective rises to the national team, but for the most part, provincial and international rugby in Ireland, as is the case with most Tier 1 nations, is fueled by the private schools system.
Rugby can never be the people's game in Ireland as long as this pattern exists, despite the strong strides the IRFU have made in establishing the sport in non-traditional areas.
If RTE's Greatest Sporting moments taught us anything it's that we're an absolute disaster at placing sport and sporting achievement in an objective context. It's alright Ruby, it's not entirely your fault.
As Ken Early wrote in his excellent 'Conor McGregor remains the man for all seasons' column after the UFC fighter's professional boxing debut against Floyd Mayweather last year, the three major sports can act as beacons for wider cultural differences in Ireland:
"The Irish sporting scene is already fragmented by ancient class snobberies - rugby fans who sneer at football as a sport for oiks, football fans who despise rugby as a sport for fee-paying schoolboys, GAA people who think anyone who likes rugby or soccer is a victim of cultural cringe, and so on."
These stereotypes come flooding in anytime one sport is deemed to be superior, or held in a higher regard than another, diminishing the theory that any sport can be the people's sport.
If rugby is not the people's sport; is GAA or soccer the sport of the people? Which one is it? Can it be both? Or does it have to be one or the other?
I can't wait to watch The Sunday Game and Soccer Republic discuss the matter over the coming weeks and months, and if you think they won't, always remember that RTE have brainstormed, discussed, approved and aired worse ideas.