4 years ago
It is time to cut through lazy banter and fully appreciate the majestic David Luiz
That joke isn't funny anymore.
Last Sunday, as Chelsea confidently dispatched rivals Tottenham to put the final touches to their now-somehow-legitimate title chase, one man stayed on the pitch longer than any other. From the final whistle he headed straight to the Shed End to celebrate with the fans after anchoring his team to their seventh straight win.
Eighteen months prior, the same man was celebrating wildly at the same end of the same pitch, scoring the goal that knocked Chelsea out of the Champions League, setting in motion the hilarious run of form and abyss of confidence that cost them their title, their dignity, and their most iconic manager.
His eccentric return to embracing these fans epitomises his role in turning around Chelsea's fortunes. Just a year ago Stamford Bridge was in revolt, labelling half the squad 'rats' and spreading the toxic vibe towards even the quieter, more kindly squad members, who'd just kept their heads down through the worst championship defence in living memory. Now, the fans love them; and they especially love him.
David Luiz defies easy categorisation, and always has done. A hero, icon, and future captain to some? Yes. A fraud and a dickhead to most? Absolutely.
The Chelsea fans who were delighted at the £50m the club got for his transfer to PSG would have paid double that to have him back in the cold, leaderless slump of their impotent title defence. Rival fans who laughed at the £32m the club paid to retrieve him from exile in Paris will now be looking at their own marquee signings and wondering what they've paid for.
To say David Luiz has been a revelation since he came back to Chelsea plays too easily into the hands of those who unfairly savaged him in the past. He plays like a "10 year old on a Playstation", said Gary Neville. "He is a liability for his team", said Jamie Redknapp. "David Luiz," said your Dad, poking his Carlsberg sloppily towards the TV, "is a useless twat."
These same pundits, now forced to joylessly praise him every week, are waiting with baited breath for the price of admission - the David Luiz Glaring Mistake. A howling lapse in concentration. A stray backpass. An alert striker - Aguero, probably - taking advantage of the moment and rolling the ball easily into the net.
But it hasn't happened yet. Five games pass; ten, fifteen, still no mistake. Six clean sheets in a row. Still no mistake.
Advertisement
Obviously, this 'has-a-mistake-in-him' cliché hasn't come from nowhere. Luiz has made costly mistakes in his career. Watching him chase German players around the pitch like a wide-eyed sixth former who heard someone at the party has weed remains one of the most harrowing sights most of us have ever witnessed in football.
The 7-1 final score is remembered not as the flourish of a truly great Germany team, but the total collapse of a Brazil side which put an unreliable, overrated clown at the centre of their plans.
But what of the clown?
Twitter banter merchants and your mate Joel, definitely-coming-up-with-this-on-the-spot, reckons he looks like Sideshow Bob, from The Simpsons. And it's funny, because much like Sideshow Bob, David Luiz is a clown, and a laughing stock, and a fool.
These people don't know their Simpsons at all. It's worth bearing in mind that Sideshow Bob went from clown to killer after one brutal national humiliation too many, leaving him deadly motivated to prove everyone wrong.
That brutal night in Belo Horizonte fixed David Luiz, and it fixed him by breaking him.
Gone is the Playstation controller that sent him launching out of position chasing air, leaving his partner stranded at the back; in its place stands a mature and calm defensive presence. This is what Chelsea paid for.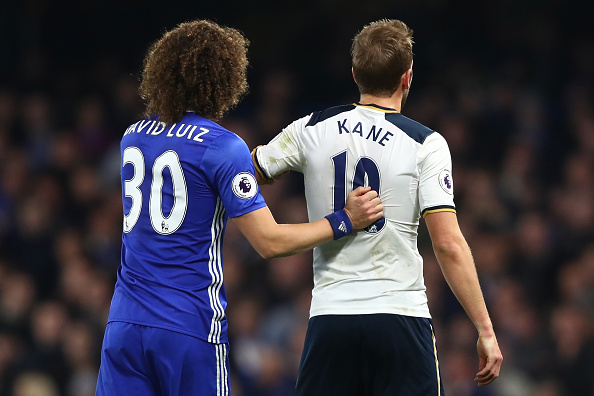 Advertisement
Everyone knows all stats are completely useless, but here's some that make him look really, really good: his average pass length is 24.44 metres, compared to John Stones' 18.36 and Joel Matip's 18.92. His pass completion percentage is only bettered among Premier League centre backs by Stones, who completes almost double the amount of passes backwards - 18.82 to 10.22.
Whatever a "Key Pass" is, Luiz hits a lot of them - 0.33 per game. Laurent Koscielny sprays out a big fat zero. Pathetic.
There are loads of reasons why stats are even more pointless than usual here; all the top teams play differently, expect different things from their defenders, and most good defending happens off the ball.
The main reason, though, is that this is David Luiz we are talking about - you can't put a number on what he brings to the team. An attacking focal point and defensive stability, yes, but also some form of on-field passion and leadership that hasn't been abstracted through several jarring layers of weird idolisation and a decrepit, creaking pair of legs (Apologies to Mr. Terry, J).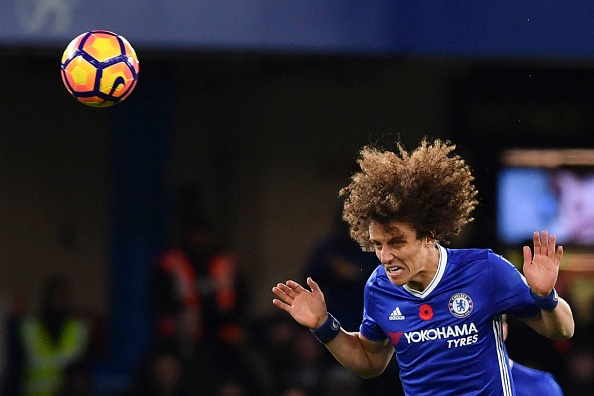 Luiz is agony, patience, and ecstasy bound to flesh. He'll smash a free kick straight into the wall and shut down the resulting counter attack in the same leap. He'll elbow someone square in the face and sprint off to make a vital interception before trotting remorselessly back to accept his yellow card. He'll carry you to your first ever Champions League title with his hamstrings hanging on in a state somewhere between 'devastated' and 'fucked', then leave for Paris so he can play with his mate.
Nobody will ever understand David Luiz; not statistics, not pundits, not the strained and bleeding achilles of any striker who ever dribbles past him. This is fine. You don't need to understand why he plays like a mad, unrelentingly beautiful bastard to accept that he is brilliant - you're allowed to just enjoy it.
Open the curtains. Let a bit of light into your life. Stop hating David Luiz just because the man on the TV keeps telling you to.
Catch up with this week's episode of Football Friday Live