5 months ago
"He blew it all out!"- Ederson lifts the lid on Man City's treble celebrations
Not everyone can drink like Jack Grealish
Manchester City star Ederson has revealed that one of his teammates had a moment to forget when he threw up in Jack Grealish's mum's bag during their trophy celebrations this week.
Advertisement
It's been quite the week for the Man City players as they've embarked on some pretty hefty celebrations ever since they claimed the club's first ever Champions League title last weekend, winning only the second ever treble in English football.
Whilst Jack Grealish's antics have grabbed most of the attention online, he definitely wasn't the only one who enjoyed himself, and it sounds like one member of the squad didn't exactly cover himself in glory during the partying.
Goalkeeper Ederson has revealed that it all got a bit too much for centre-back Ruben Dias at one point who usually doesn't drink but "made an exception" for the treble celebrations.
Speaking whilst with the Brazil squad on international duty, the keeper said: "After a very exhausting and incredible season, only United had managed to do it, of course we have to enjoy and let our emotions out. These are months of intense work. Who drinks, drinks.
Advertisement
"99% of the group drank, enjoyed it. Many players ended only on Monday. That's part of it. You have to enjoy the good times. The missing one per cent is Nathan Aké, there are others who don't drink, but they made an exception.

"Ruben Dias went to make that exception, but it didn't work out for him. Two shots and he blew it all out! Coincidentally, it was all in Jack Grealish's mother's bag."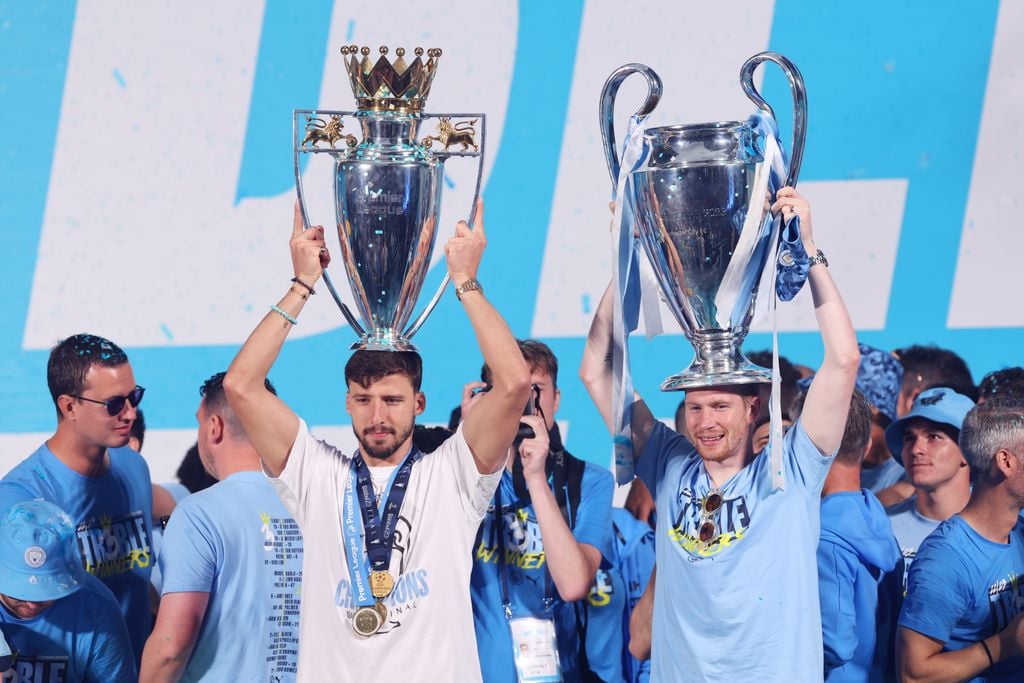 Ederson says Grealish was a "figure apart" in celebrations
Speaking about Grealish's evolution into a key player in the City side, he continued: "Jack is a player who evolved a lot.
Advertisement
"I see how difficult it is for a player to leave a team in which he played a leading role [Aston Villa] and arrive at Manchester City as just another player, adapting to the process and philosophy of the coach."
But he admitted that Grealish was a "figure apart" in the celebrations.
Ederson said: "He always enjoys the days off and nothing fairer than that, on the days off you can do what you want, just like you journalists, a person in charge of a company.
"On my days off I like to have a glass of wine with friends. But Jack was a figure apart in these celebrations."
Advertisement
WATCH HOUSE OF FOOTBALL:
Related links.
Advertisement
---